Rescue me keeps hitting home...
More than any ot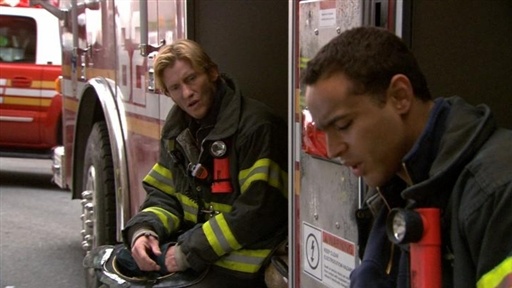 her popular culture television program, "Rescue Me" explores the challenge of being a "real" man in these strange days. If you don't know this program about a bunch of post September 11th survivor firefighters in NYC, you are missing some of the best writing and acting available. It is rough, honest, often offensive but always engaging about the inner emotional, spiritual, socio-political realities of contemporary men in the workplace.
I wish I could find the clip of Dennis Leary asking an abusive lesbian to beat him instead of her girlfriend so that he could finally feel the grief of his young son's death. (I can't find it on youtube but the whole sequence is worth the price of admission.) But this recent clip with Michael Jay Fox playing an injured hockey player - who is currently romantically involved with Leary's ex-wife - gets close.
At the end of a recent show, Leary's AA sponsor, his cousin the ex-priest, falls off the wagon - and eventually Leary finds him in a church ranting about the hypocrisy of so many baptisms. After drinking even more and offending everyone including probably God, the two men go out to a part to talk it all out. They call up some of their wounds - and lies to each other - but then promise to get back on the wagon again. God really does welcome you back just like an AA meeting, they both agree, because that's what grace is really all about... it is some of the best male spirituality happening. Check it out.