Pentecost, peace and grace...
NOTE: Here are my weekly sermon notes for this coming Sunday: Pentecost 2009. Curiously, the heart of my reflections were born out of a song my wife has been singing of late - Mason Jennings' "Some Say I'm Not"

(
http://www.last.fm/music/Mason+Jennings/_/Some+Say+I%27m+Not
)

- as well as my prayers about ministering to the real wounds I know within me and so many others... and what has made the difference in my life. Join us, if you can, on Sunday at 10:30 am. It would be great to see you.
For the better part of my adult life, I have understood today – Pentecost – one dimensionally.
Oh, I have cherished the challenges of the texts and reveled in the revolutionary possibilities con
tained therein. I have celebrated the symbolism of the Spirit – proclaimed many of the comforting and potentially firery possibilities of that great and holy wind coming upon God's people to bring revival – and have always found the story of Ezekiel in the valley of dry bones to be simultaneously electrifying and bewildering.
"Son of Man, can these dry bones… live? Only thou knowest, Lord, said the prophet." To which the One who is Holy said, "Then prophesy to these bones… call down my spirit upon them that they might hear the word of the Lord… and suddenly there was a noise, a rattling and the bones began to come together… bone to its bone… with sinews and flesh and skin."
Oh, these are great stories and I have preached and pleaded with God on Pentecost for years for an encounter with this type of renewal and revival. But I have to tell you that for most of my life I have only seen Pentecost as through a glass darkly. As much as I love it, it has remained one dimensional to me… until late.
+ The other great feasts and festivals of the church – Christmas, Good Friday or Easter – have taken on deeper truths for me over the years.
No longer do I think of Christmas as merely that midwinter holiday of the Christ child's birth; but rather it has become a spiritual invitation to search for all the obscure and sometimes scandalous places where the God who loves us is trying to break into our lives. Where is God coming to the world in tender – and innocent – and even helpless ways?
+ Same goes for Good Friday:
where is Christ being defiled and e
xecuted today? Where are people singing the blues and wailing in lament? Who is the current scapegoat?
You get what I'm trying to say: these other celebrations have become nuanced invitations for me to respond to the lure of God's living presence – but not Pentecost. Until just this week, when it came to this grand Christian festival born of Christ's life, death and resurrection, I spoke like a child and thought like a child.
But as St. Paul understood so profoundly: the time has come to put childish things away. The time is now to realize that God's promises through Jesus Christ are real – not crazy ramblings – or worse yet, lies. They are real. And they are for right now as well as in the great life yet to come. How does John's gospel for today put it?
"I still have many things to tell you," Jesus said, "but you can't handle them now. But when the Friend comes, the Spirit of the Truth, he will take you by the hand and guide you into all the truth there is. He won't draw attention to himself, but will make sense out of what is going on… indeed, out of all that I have done and said. He will honor me; he will take from me and deliver it to you. Everything the Father has is mine. That is why I've said, 'He takes from me and delivers to you.

And then he concludes with these words:
Fix this firmly in your minds: You're going to be in deep mourning while the godless world throws a party. You'll be sad – very sad – but your pain will turn into joy.
Did you hear that? God will be sending Christ's friend to us – the Holy Spirit – the Spirit of Truth – and the Spirit will come to us and comfort us so that our pain might be turned into joy.
And that is what an adult Pentecost is all about, it seems to me: learning how to live and nourish the Spirit within and among us so that we might experience Christ's joy.

Pentecost, writes Jim Callahan, is not the birthday of the church; that probably happened on Good Friday when Jesus was hanging on the Cross and pleading with God that we might be forgiven for sins we couldn't even name or imagine. No Pentecost is God's reply to Good Friday – a day of great joy, power, fire and spirit – that isn't reserved just for Jesus alone but is poured out upon all of the faithful disciples. How does the book of Acts put it?
When the Feast of Pentecost came, the faithful were all together in one place. Without warning there was a sound like a strong wind, gale force—no one could tell where it came from. It filled the whole building. Then, like a wildfire, the Holy Spirit spread through their ranks and they started speaking in a number of different languages as the Spirit prompted them. There were many others staying in Jerusalem just then, devout pilgrims from all over the world. And when they heard the sound, they came on the run… because one after another heard their own mother tongues being spoken. They couldn't for the life of them figure out what was going on, and kept saying, "Aren't these all Galileans? How come
we're hearing them talk in our various mother tongues? Are they drunk?"

Strangers became kin folk on Pentecost. Frightened disciples became fearless evangelists on Pentecost. Women and men became equals on Pentecost. And everyone who experienced this revival could only talk about it like a banquet – or a beer fest – because the sadness was gone and joy filled the air. "In the midst of a numbingly sober and sour world, these women and men looked like a bunch of happy drunks," Callahan writes, "because at last they knew that they were God's beloved."
Every last one of them experienced from the inside out that they were beloved by God just as Jesus had promised. What's more they knew deep within that the heart of God was love – "not just in poetic theory, but in palpable fact." They experienced, too, that in belonging to God they were not alone – they belonged to one another – in community. And the joy this gave them not only filled their hearts, "but gave them the inspiration to go out into the streets to heal and redeem."
· This is what the spirit of the Lord had promised to Ezekiel when he prophesied to that valley of dry bones.
· This is what the prophet Joel had "predicted when he said that there will come a time when the Lord will pour out the Spirit upon all people"
so that our sons and daughters might speak truth to power, our old men might live as visionaries again and our young people clear their heads in compassionate ways.
It is what Isaiah shared once and what Jesus took up again: the Spirit of the Lord is upon me to preach and bring good news to the poor and all who are wounded and broken.
And Pentecost is the proof – the encounter – the experience that God really will turn our sorrow into joy.
And here is where I have to come down out of this wonderful and elevated pulpit… and talk with you as one broken and wounded soul to another. Pentecost, beloved, is not magic. It is not merely the stuff of hope filled myth nor sacred and spiritual fantasy. Pentecost is real. The joy of Christ is real.
+ Release from addiction is real. The end of our sorrow is real. The turning of our pain into joy is real, too.

+ Not that we still won't have pain – not that all our tears will end in this life or the next – or that our experience of the living kingdom of God in the 21st century won't also know anxiety, wounds, confusion and all the rest.

Jesus didn't say that – and neither do I. As John's gospel continues this morning, Jesus talks about the gift of the Holy S
pirit coming to us like a woman giving birth. Listen carefully:
When a woman gives birth, she has a hard time, there's no getting around it. But when the baby is born, there is joy in the birth. This new life in the world wipes out memory of the pain. The sadness you have right now is similar to that pain, but the coming joy is also similar. When I see you again, you'll be full of joy, and it will be a joy no one can rob from you. You'll no longer be so full of questions. This is what I want you to do: Ask the Father for whatever is in keeping with the things I've revealed to you. Ask in my name, according to my will, and he'll most certainly give it to you. Your joy will be a river overflowing its banks!
This, you see, is a call for training – an invitation to prepare our hearts and minds for the Spirit – just like Jesus said to his first disciples. Here is what the resurrection/Easter story says without ambiguity: once the shock of encountering the Risen Christ was over, Jesus spent the next 40 days teaching his bewildered disciples new and essential spiritual practices. He had done this in the flesh for three years, but the apparently needed a refresher course.
And at the end of these 40 days – 10 days before the Feast of Pentecost – he told them, "Now I want you to stay together and study and pray. Wait for power from on high. And when it comes… then you will be ready to act." Now listen to what the book of Acts tells us happened next because it is instructive for us:
· First the disciples went back to Jerusalem as Jesus instructe
d and spent time in prayer. (Acts 1: 12-14)

· Second, they decided they needed to replace Judas who had fled and taken his life – that is they needed to restore the number of disciples to 12 again – why? To symbolically fulfill their calling as the 12 tribes of Israel.

· And third they studied and shared life together: do you see what is taking place here?
They weren't looking for a miracle. They weren't pretending that their grief and confusion wasn't real. And they weren't just going through the motions or playing church.
They were studying, they were learning new ways of prayer and… they were practicing the unforced rhythms of God's grace.

Remember those words of Jesus? Back in Matthew 11 he was explicit:
Are you tired? Worn out? Burned out on religion? Come to me. Get away with me and you'll recover your life. I'll show you how to take a real rest. Walk with me and work with me—watch how I do it.

Learn the unforced rhythms of grace

. I won't lay anything heavy or ill-fitting on you. Keep company with me and you'll learn to live freely and lightly.

It is my deepest conviction that what the disciples were doing was practicing the lessons Jesus gave them – they were learning the unforced rhythms of grace – getting ready to both see and experience the Holy Spirit when it was given. And they didn't have to go anyplace special to receive this gift, did you notice that? They didn't need to go to a university or a seminar, they just had to be together, open their heads and hearts and practice the unforced rhythms of grace.
Then, in the fullness of time, they were ready to receive, experience and claim the blessings of joy born of the Holy Spirit.
Belo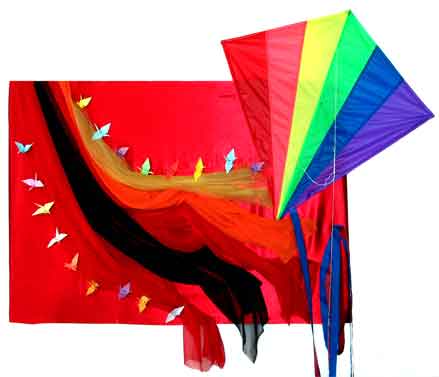 ved in Christ, what was true then is no less true now… but we have some work to do: some study, some practice, some time spent learning the unforced rhythms of grace.

+ That is the promise of Pentecost: right here – right now – in our lives and in our time we, too, might come to know Christ's joy.
· We will still weep – Jesus wept. We will still hurt – Jesus grieved for those who wounded him and ached when his body was attacked. We will still die even as the Lord died before us.

But we will also be grounded in a peace that passes all understanding – a joy that will change us from children to adults – a love that will not let us go. For we will know from the inside out that we are truly the beloved of the Lord - and this is where joy is born -
wh
en the Friend comes, the Spirit of the Truth, he will take you by the hand and guide you into all the truth there is. He won't draw attention to himself, but will make sense out of what is going on…
so that your joy may be full.
(I've included this song because youtube doesn't have Mason Jenning's other tune - but this is fun, too!)